Relax on a tropical island paradise:
Paradise Island in the Bahamas
A vacation that fits your budget.
A vacation where most of your time is invested in enjoying yourself and recharging your batteries.
Not worrying about how to get to where you're staying from the airport or the expense of a mediocre breakfast in the hotel restaurant.
Think about it. For a relaxing, getaway vacation, do you really have to spend a lot of money? You can escape to Paradise – Paradise Island – for a weekend or a week if you plan in advance.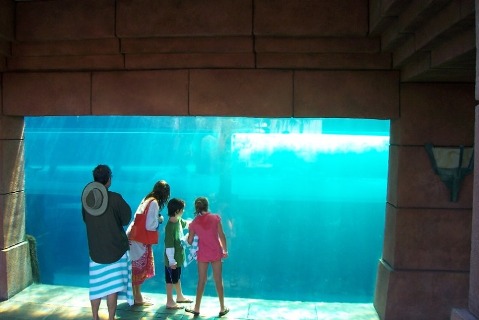 Watching riders go through the shark tank on the Serpent Slide at Atlantis
Ready to Get Away?
A getaway vacation relaxes you and allows you to return home refreshed. Whether you want to just lie on the beach sipping tropical drinks, feel the exhilaration of parasailing, shop for handmade souvenirs, or experience nature in an exquisite setting, Paradise Island can be the perfect place for your vacation.
A little information and planning can really make the difference between a gorgeous memory and an absolute disaster. And to plan in advance, all you need is a little practical knowledge about your destination.
Whether you're ready to go next week or are planning your vacation for next year, I hope you enjoy preparing for your visit as much as I do!
---
Why Paradise Island?
easy to reach - many nonstop flights to Nassau leave major US cities
no need to change money - the Bahamian dollar is interchangeable with the US dollar
easy access from the airport by taxi
the language is English, with a Bahamian twist
close to Nassau's shopping, dining, cultural sites – but not tooclose
free from the noise and traffic of Nassau
---
Expert Advice
When you book a hotel online, unless you know someone who has been there, you have to rely on the images the hotel provides to see what it's like. After nearly 20 years of world travel, I rarely stay anywhere that isn't recommended, at least by a trusted guidebook.
I first visited Paradise Island several years ago. I was an adult who had returned to graduate school, and I had little time for more than working and studying. I had only enough time and money for a vacation somewhere close, but I needed a break, an escape, so I headed down to the Bahamas.
Since then, I've been back so many times that Bahamians tell me I will soon be permitted to vote in their elections! Friends and family always call on me to advise them when they want to get away somewhere fun for the adults and kids. I started this website to show people what it's like with my many photographs and no-nonsense advice. (Learn moreAbout Me). It's a pleasure to write about Paradise and help people who are trying to collect information on their getaway vacations. I hope I can help you as well!
Interested in a vacation in paradise? You've come to the right place.