Marina Village
at Atlantis in the Bahamas
The pedestrian Marina Village at the Atlantis in the Bahamas is lined with restaurants and fast food take out places, retail boutiques and shops, and vendor carts. If you're in the mood for shopping or you need something to wear, odds are you'll find it here.
You'll find luxurious boutiques selling designer resort wear, souvenir shops with t-shirts and seashell necklaces, exquisite gems and jewelry, and fine art plus affordable reproductions. You can grab a quick lunch of hamburgers, pizza, sandwiches, or even ice cream, or dine in style at a steak house, family-style Italian restaurant, or old French-colonial gourmet watering hole.
Or just check out the yachts! It's a nice place for a stroll during the day or in the evening, and you'll find plenty of benches and a couple of spotless public restrooms.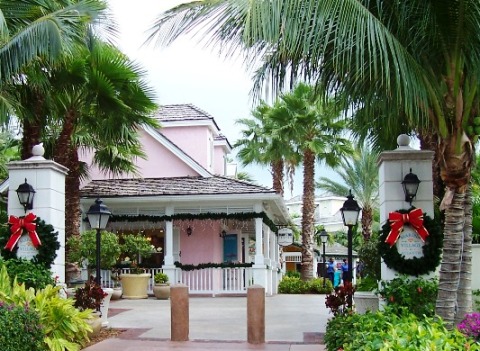 Enter from the marina. (You can see they were still decorated for Christmas in these photos)
Clothes Shopping
Ready to look for something new to wear or some special souvenirs? Check out Clothing and Accessories. You'll find resort wear, T-shirts, and fashion, including Pirana Joe's and Tommy Bahamas.
Check out the duty free prices for precious gems, jewelry, watches, and art while strolling along the pedestrian thoroughfare of the Marina Village. You'll no doubt find something special to remember your time on Paradise Island among the many shops selling jewelry and watches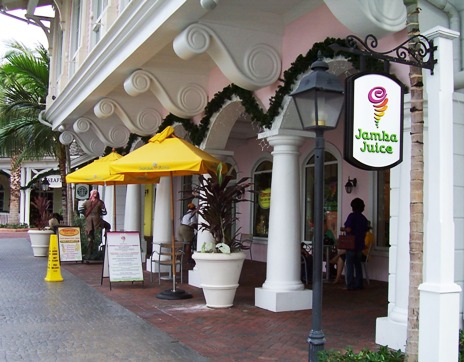 Jamba Juice, Tortuga Rum Cakes, Starbucks, the SeaFire Steakhouse , and upstairs, Café Martinique's dining room
There is plenty to see and do. People stroll out from the Casino or Coral Towers for breakfast, lunch, a cup of Starbuck's coffee, or an ice cream come from Ben and Jerry's.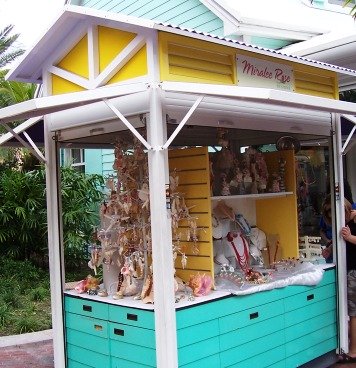 Miracle Rose gifts and souvenirs
Not a shopper? Grab a drink or an ice cream cone and check out the ultra-luxurious yachts in the adjacent Atlantis Marina.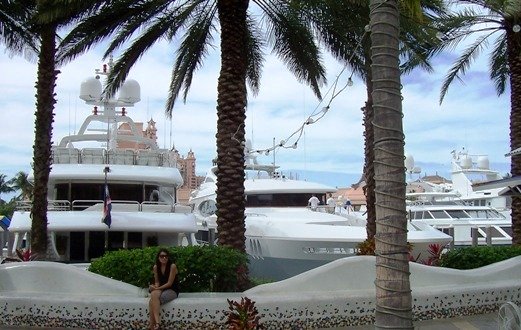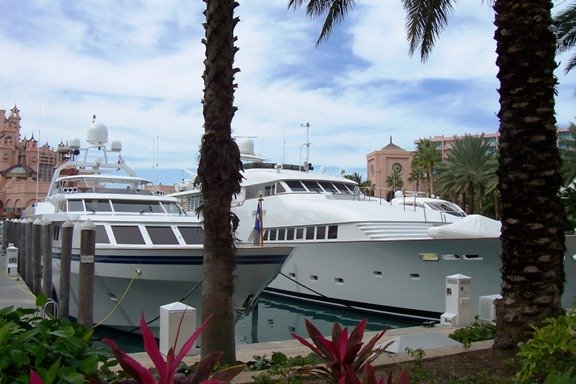 Return from Marina Village to Practical Paradise Island homepage