Paradise Island Hotels
Accommodations and transportation are the two biggest expenses on any vacation. With competitive rates for nonstop flights to Nassau from many US cities, the main expense comes down to where you stay.
You have a huge choice of places to stay on Paradise Island, something for everyone and every budget.
From the overwhelming Atlantis Resort and Casino to the cheerful Comfort Suites across the street to the ultra-luxurious One and Only Ocean Club , the varied accommodations reflect the many different visitors who come to Paradise Island.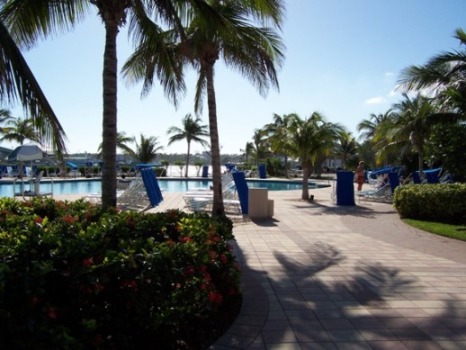 The pool at Harborside Atlantis


Bahamas Vacation Rentals
Instead of paying for a hotel room, rent a home from Bahamas Vacation Rentals, the best combination of a getaway vacation and the comforts of home. Check out properties available on Paradise Island: Bahamas Vacation Rentals
On an island getaway vacation, the big decision is usually whether you want to stay in a hotel or resort that's right on the beach or save some money and walk to the beach. While that's true, the real question nowadays is whether to stay at one of the numerous properties at Atlantis Bahamas or somewhere else.
There are two public access roads to the beach, but if you are staying on the south (harbor) side of the island, the walk may be a bit long and hot, especially for small children. Be aware of location when booking a room at a Paradise Island hotel!
If you're interested in staying in an apartment with a full kitchen and a washer dryer, check out the Harborside Resort . It's part of the Atlantis juggernaut, but it also provides a home away from home for families.
All-Inclusives
Before you book a vacation at either the Riu Paradise Island or the Paradise Island Harbour Resort, check out the reviews and proceed with caution.
The other next door neighbor of Atlantis, Club Land'Or , supposedly up for renovation soon, is a time-share property that some people absolutely adore and other despise. Definitely check it out carefully before you decide to buy!
And for those of you traveling on a shoestring budget, consider the Budget Accommodations from among the Paradise Island hotels.
Share your reviews!
Have you visited Paradise Island? Did you love a particular hotel or guesthouse? Tell us all about it here:
Your Reviews
Return from Paradise Island hotels to Practical Paradise Island homepage