Hotels in the Bahamas
Your Reviews: Paradise Island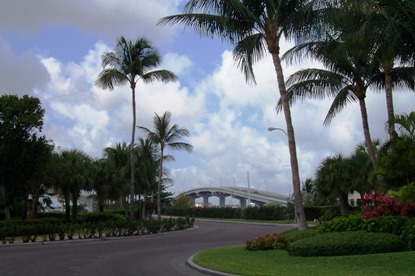 The Paradise Island bridge--southbound (to Nassau)
When it comes to hotels in the Bahamas, especially on Paradise Island, you have several very different choices. The Disneyesque madness of The Atlantis Resort? The quiet luxury of The One & Only Ocean Club ? The value of Comfort Suites. Or maybe the Sivananda Ashram Yoga Retreat is right for you.
Whatever type of place you like to stay in while visiting Paradise Island, share your story. What is the best place to stay? Where have you had a great time? And what made it so specials?
Be sure to share a picture is you have one.
Found a place you love to stay on Paradise Island?
Tell us about it here.
A perfect tropical island vacation depends on a lot of things, like the weather, but staying in a pretty, homey villa or a luxurious resort can make your vacation exceptional.

Share your story, tips, and reviews about Paradise Island hotels.

Check out these Reader Reviews and Tips
Click on the links below to see what others have said about Paradise Island Hotels and Resorts.
Atlantis Royal Towers

We stayed there (my wife and 3 children) for a week, and it was great. The rooms were luxurious, and the bathrooms beautiful. Everything at the Atlantis …
Return to Paradise Island Hotels & Accommodation

Return from Hotels in the Bahamas—Your Reviews to Practical Paradise Island homepage