Atlantis Resort Bahamas
Premium Activities
Check out some of the exciting premium activities at Atlantis Resort Bahamas. If the free activities aren't enough, you have a choice of huge variety of things that require a fee.
Climb a rock wall, dance all night, swim with the dolphins, walk with sharks, make your own teddy bear or ceramic pot, take a spin on the racetrack… There's no lack of things to do at the Atlantis Resort Bahamas!
---
Climbers Rush
Don't miss the exhilarating heights of Climbers' Rush next to the Sports Center.
The guys at Climbers' Rush say they get bored in the afternoon, so stop by to chat even if you're afraid of heights. Anyone aged 6 and older can climb
$15 for one climb
$25 for half an hour
Tip: They'll let you climb for free if they're bored enough--usually on weekday afternoons 1-4 PM
Closed Thursdays and Sundays.
---
Dolphin Cay
At Atlantis in the Bahamas, the Dolphin Cay offers a variety of opportunities for anyone to interact with dolphins. An adult must accompany children, and there is a convenient waiting area for family members who prefer to remain on dry land!
For pictures, prices, and more information, click here: Dolphin Cay
---
Gamers' Reef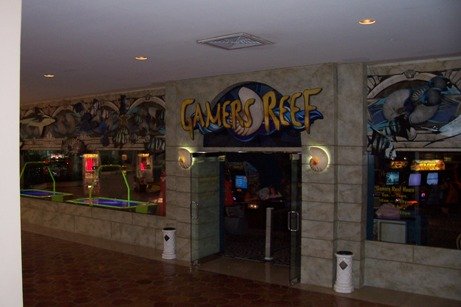 The huge Gamers' Reef in the Beach Tower lobby provides many hours of playing action. The latest in arcade games and two-player action will keep teens busy after hours.
---
Atlantis Pals and Pottery Studio
Kids of all ages enjoy the Atlantis Pals bear-making center, Beach Lobby, as well as the Pottery Studio.
---
Blue Adventures
Rentals from Blue Adventures: Water Toys, Sports, and Excursions can be enjoyed in the lagoon. Check out Walking with Sharks, or rent an aqua cycle, kayak, or pedal boat for half an hour. Take a SCUBA lesson, goon a snorkeling excursion, or see the bottom of the sea in your own personal submarine.
For pictures, prices, and more information, click here: Blue Adventures
---
Club Rush
Kids enjoy spending adult-free evenings at Club Rush, which costs $18 for teens 13-17 (8:30 PM – 12:00 midnight), and $15 for kids 6-12 (4:00 PM to 7:00 PM).
Snacks and soft drinks can be purchased in Club Rush.
---
Aura nightclub
The hip crowd enjoys the pulsing beat of the hip Aura nightclub, upstairs from The Casino. Dress up in the latest resort fashions and check out the beautiful people.
For prices and more information, click here: Aura nightclub
---
Atlantis Speedway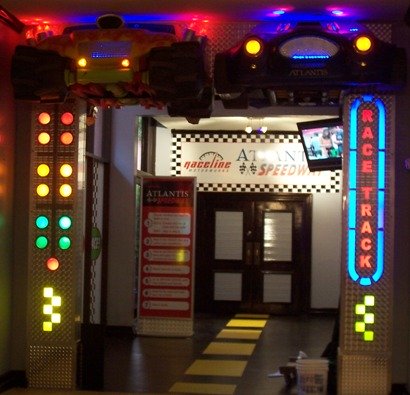 Take a spin on the racetrack at the Atlantis Speedway downstairs fromn the Coral Tower lobby. Kids of all ages build and race radio controlled race cars and monster trucks.
---
The Jonas Brothers
In December 2008, The Jonas Brothers appeared at the Atlantis, and my cousin, Emily, provided pictures that will please any fan!
---
More about Atlantis:
Properties/Overview
Dining
Free Activities
Shopping
Return from Atlantis Resort Bahamas to Practical Paradise Island homepage