Dolphin Cay
At Atlantis in the Bahamas, the Dolphin Cay offers a variety of opportunities for anyone to interact with dolphins. An adult must accompany children, and there is a convenient waiting area for family members who prefer to remain on dry land!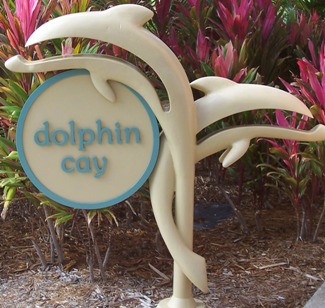 From the lobby of The Cove, it's a short walk to Dolphin Cay, and once you've paid, you enter the grounds and are assigned to a locker room and given a wetsuit of stretchy material that can fit all shapes and body sizes!
.
Use the luxurious changing areas which have private showers for after your dolphin interaction. Remove all jewelry, including earrings, and place everything in your locker, which you program with your own personal 4-number code. Then watch a short orientation video about dolphins and meet your guide.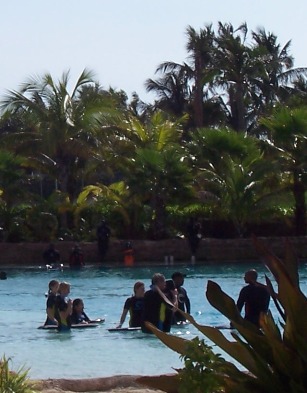 Shallow Water Interaction
Children and dolphin lovers who don't want to get in over their heads sign up for the Shallow Water Interaction. You get to touch the dolphin, and profession photographers take shots of you hugging and kissing the dolphins right on their bottlenoses!
$140 per person
Deep Water Interaction
Strong swimmers receive their own mask with snorkel, which you keep and can take home. Under the trainer's supervision, you use small "water scooter" that helps you to dive down and keep up with your new dolphin pals. Then grab a boogie board and let your dolphin push you across the lagoon with their nose against the bottom of your foot! It's an exciting rush, but it leaves the bottom of your foot slightly sore for a few minutes.
$184 per person
Ages 10 and older only, recommended for good swimmers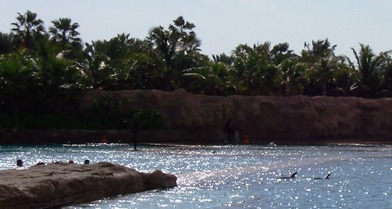 Two Dolphins in the deep water section want to play with the humans in the shallow section!
Trainer for a Day
Spend an entire day ( 6 hours) with Marine mammal Specialists caring for and interacting with sea lions and dolphins. You get to see behind the scenes where you'll observe trainers feeding and caring for the animals. Lunch is included in the price.
$379 per person
Ages 10 and older Children 10-12 must be accompanied by an adult participating in the program
Aquarist for a Day
Work alongside the animal caretakers, feed stingrays, snorkel with manta rays and sharks, see the "fish hospital". Atlantis doesn't offer this special program every day, so plan ahead if you'd like to participate.
$249
Ages 13 and older only

Return to Atlantis Resort Bahamas: Premium Activities

Return to Paradise Island Activities

Return from Dolphin Cay to Practical Paradise Island homepage