Bahamas Beaches:
Cabbage Beach
Of all the islands, tiny Paradise Island's Cabbage Beach is considered one of the best Bahamas beaches. Running from the Atlantis Resort at its western edge all the way east past the Paradise Island Beach Club, this exquisite white sand beach provides a lovely setting for a stroll.
Enjoy the emptiness and cool air in the early morning or evening. During the day, sunbathe, rent a Jet Ski from one of the numerous operators, or relax in the shade with a good book.
If you're not staying at one of the places on the beach, there are two public access roads: one next to the Riu resort and off Casino Drive; and the other next to the Paradise Island Beach Club, off Garden Drive. Bring a picnic lunch and be prepared to barter with the locals renting or selling various things: hair braiding, water, chairs, umbrellas, parasailing, jet skis, boat rides, clothes...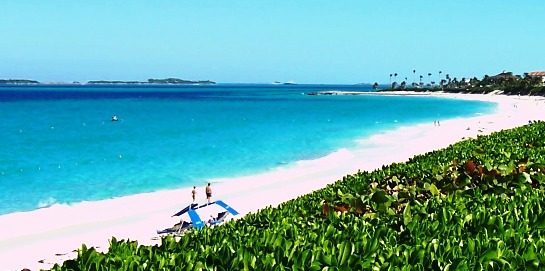 Lovely stretch of white sand east of the One & Only Ocean Club


The water tends to be a bit rough, especially in the winter. You'll find lifeguards on duty near the Atlantis resort. Take not of the flags denoting the condition of the surf: A red flag means the current is too strong for swimming, so you should stay out of the water. Also, you won't find any public restrooms, so it may be wise to patronize some of the beachside bars or restaurants in order to use their facilities.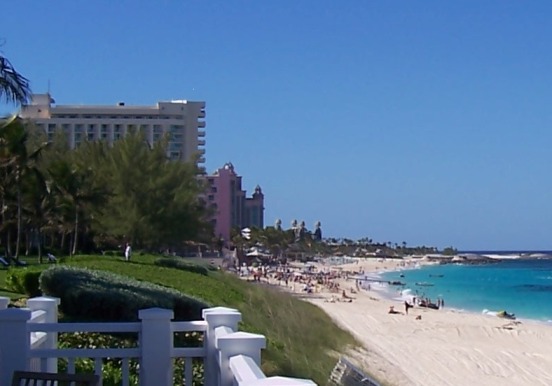 The crowded area near the western public access road next the Riu.


If you decide to rent a jet ski or go parasailing, you can try and haggle with the operator for a discount. I have a healthy respect for the sea and like to stay near the shore, but a good friend described renting a Jet Ski when she stayed at the Riu All-Inclusive Resort
Return to Paradise Island Activities
Return from Bahamas Beaches: Cabbage Beach to Practical Paradise Island homepage