Riu Paradise Island
All-Inclusive Resort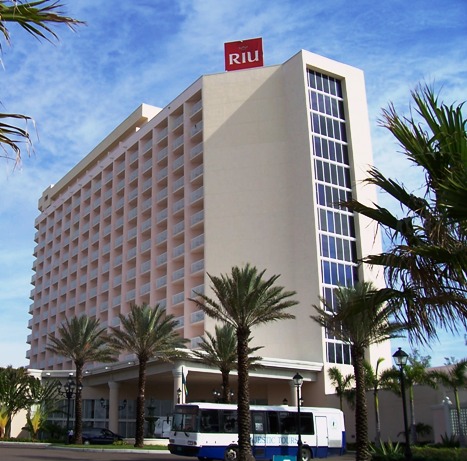 I'm not a fan of all-inclusive resorts, so I asked a good friend who had stayed at Riu Paradise Island for her advice. I've pasted exactly what she said below:
"Yes, I did stay at Riu Paradise Island for a weekend all-inclusive deal. They do in fact make you reserve a table for the theme restaurants (which aren't very good). It's prob best to do your breakfast and lunch at Riu, then go into town for a better meal. The Japanese one in particular is awful.
"Other things of note, the swim-up bar makes the pool very dirty. I often felt like I was swimming in a cesspool of suntan lotion, margarita mix and adult B.O. Don't swim in the pool. Spend your time in the ocean. :-)
"I was disappointed too about the beverage selections. For an all-inclusive, I thought you would have more than two choices of beer (they don't list this on their marketing packages). They only offer Miller Genuine Draft and one other brand. I'm not an MGD kind of gal....so that was a bummer too.
"It has nothing to do with the hotel, but the JetSkis are really expensive. I've traveled to many Caribbean Islands and they are by far the most outrageous. They want like $90 for 1/2 hour. I talked them down to $50 but still couldn't ride for that long...
"Oh and one more thing, make sure to ask for a room that faces the ocean and is poolside (left side). Anything on the right side (facing the ocean) faces a large generator that makes lots of noise!!!!
"Believe it or not, I did have a great time overall...it was the people that made it great though, not so much the hotel."
Return to Paradise Island Hotels & Accommodation
Return from Riu Paradise Island to Practical Paradise Island
Listed on:
Dmegs Web Directory