Paradise Island Harbour Resort
By most accounts, the Paradise Island Harbour resort is "a dump". Spend a little more money and stay somewhere nicer. The rooms are in terrible need of renovation, and many of the people have complained that guest really should bring an air freshener from home to mask the unpleasant odors in the room. Descriptions of the smells range from "damp, musty" to "sewage".
All the food and drinks are included in the price of the room. I'm not a fan of all-inclusive resorts, but if you are, be aware that the low prices attract a lot of young (and not-so-young) rowdy people who tend to drink too much, vomit, yell to each other, play loud music all night long... get the idea? Not worth any price!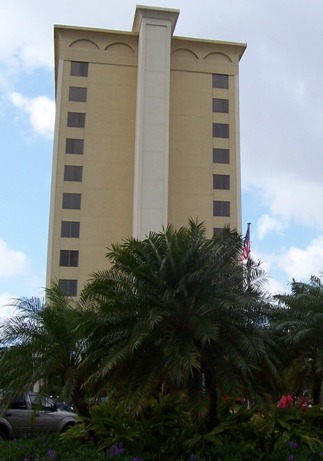 For dinner, you must make a reservation early in the day so they can plan how much food to prepare. They will not seat anyone without a reservation even if the restaurant is empty. The price is included, so don't expect anything gourmet. They prepare food as inexpensively as possible, and that means only a few selections that are mass-produced.
WiFi is rather expensive: at last count more than $6 for 10 minutes. Leave your laptops at home and have a vacation away from technology!
The swimming pool is large and pretty, and I would stay there all day rather than going down to the man-made "beach". The staff cleans the lagoon every morning, but it faces the harbor and not the open ocean, so garbage from the passing ships washes up.
Return to Paradise Island Hotels & Accommodation
Return from Paradise Island Harbour Resort to Practical paradise Island homepage