Cafe Martinique Bahamas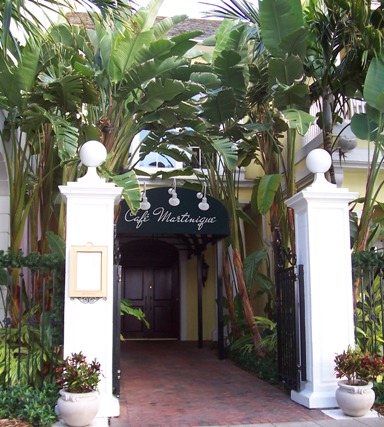 If you ever watch the movie Thunderball, you'll see the original Cafe Martinique Bahamas. Dining in the renovated version is like a trip back in time, like having dinner at a millionaire's house in French Colonial times. In fact, the first time I entered the restaurant, the piano player and wait staff in white jackets made me feel like I was stepping into the movie Casablanca.
The restaurant is in the Marina Village at Atlantis; however, once you step inside, you're worlds away from the hustle and bustle of the resort. An old-fashioned birdcage elevator takes you up the one flight to the restaurant, or you can walk up the broad, richly carpeted stairs.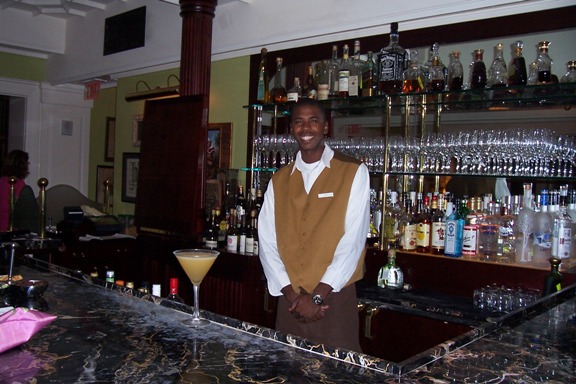 Ask Emerald, the friendly barman, to make you the house cocktail, the Casino Royale
Go early so you can have a drink at the bar while waiting for your table. Or just have drinks here. Pretty armchairs and antique couches provide an elegant spot, or watch the sun set over the marina from out on the lovely veranda.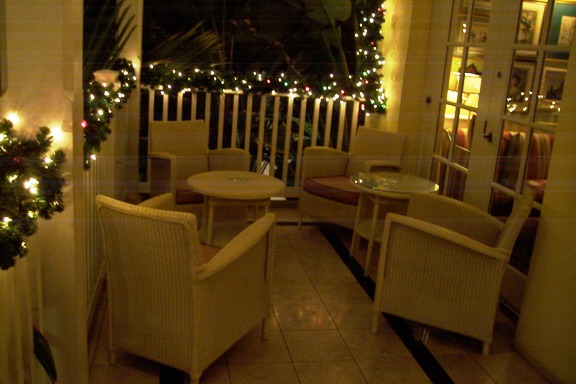 Cosy veranda at Cafe Martinique Bahamas dressed up for Christmas


Once your table is ready, you're escorted past the piano, where a singer's soft melodies serenade the patrons. Impeccable service and the exquisite food of celebrated chef Jean-Georges Vongerichten make this a sumptuous, epicurean feast.
If at all possible, get the seven course Tasting Menu with the impeccable accompaniment of the carefully selected Wine Pairings. If you do, though, be sure to pace yourself because dessert is well worth the wait! (In 2007, the price was $145 for the Tasting Menu and $100 for the Wine Pairings)
---
Here's an example of the Tasting Menu and Wine Pairings:
Egg Caviar
Moet & Chandon White Star, Epernay
---
Rice Cracker Crusted Tuna, Striacha-Citrus Emulsion
Chateau Ste. Michelle Riesling, Washington
---
Foie Gras and Vanilla Brulee, Quince-Pineapple Compote
Domaine des Sablonnettes Coteasux du Layon Fleurs d'Erables, Loire
---
Nassau Grouper, Aromatic Black Beans and Autumn Vegetables
Conundrum, Napa
---
Bahamian Lobster Tartine, Lemongrass and Fenugreek Broth, Peas Shoots
Mas de la Rouviere Bandol Rose, Provence
---
Roasted Lamb Chop, Chili Crumbs and Braised Artichokes
Villa Mt. Eden Cabernet Sauvignon, Napa
---
Dessert tasting
Saint-Croix-du-Mont, Chateau des Deux Lions, Bordeaux


Return to Paradise Island Restaurants

Return from Cafe Martinique Bahamas to Practical Paradise Island homepage