Paradise Island buffets
Currently, four Paradise Island buffets provide a variety dining choices for the hungry vacationer. Not surprising, the Atlantis Resort features three of the four very different buffets.
---
Mosaic
Newly opened Mosaic, in The Cove Atlantis, has quickly become the favorite buffet on Paradise Island. This chic space is centered around cooking stations where chefs prepare made-to-order dishes.
Like everything at Atlantis, Mosaic is expensive; however, most people I talked to thought the food and ambiance was well worth the price.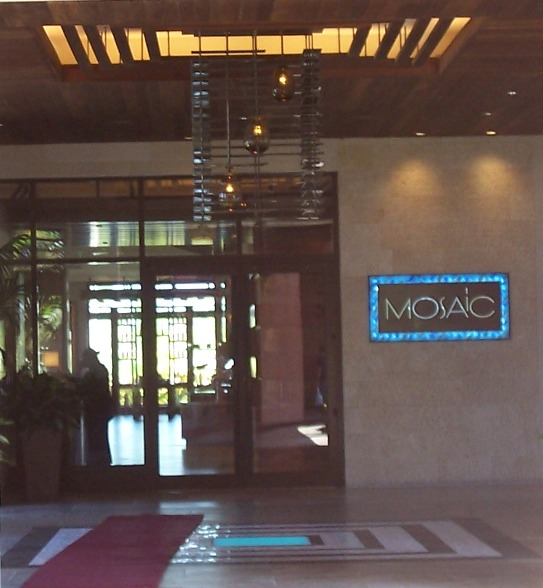 Dinner: Adults: $59.00
Breakfast: Adults: $28.00
(Prices don't include Atlantis's ubiquitous 15% gratuity added to meals at every restaurant.)
The simple decor compliments the artful array of delicious gourmet foods. You could eat here every day without getting tired of it. For example, my brother's family eats breakfast there every day when they stay at Atlantis.
---
The Captain's Table
This fun and popular family buffet in the Paradise Island Harbour Resort features theme night dinners
Oriental Mondays
Bahamian Poolside Luau Tuesdays
Soprano's Italian Wednesdays
Jamaican Me Crazy Grill Out Thursdays
King Neptune Seafood Festival Fridays
South of the Border Mexican Saturdays
Western Round-Up Great Cowboy Steak Out Sundays
---
Market Place
The sheer size and selection at the Market Place buffet has to be experienced, particularly the dessert buffet.
---
Water's Edge
The Water's Edge seafood buffet boasts an enchanting location on one of Atlantis lagoons and the same high prices ($52.90) as the other buffets. Be aware that lobster tails are limited to one per guest, so enjoy the one that you get or share with your dining companions.
The buffet at Water's Edge offers
a raw seafood bar
antipasto bar
grill station with lobster, steak, chicken, ham
pasta and pizza
desserts
Return to Paradise Island Restaurants
Return from Paradise Island buffets to Practical Paradise Island homepage