Mesa Grill
Bahamian specialties with a Southwestern Flair
Celebrity chef Bobby Flay opened this branch of his famous Mesa Grill in early 2007. With gorgeous views and its fusion of Southwestern and Bahamian cuisines, it has become one of the most popular restaurants in the Cove Atlantis.
Just reading over the menu makes me hungry! I'm including the prices because it's expensive. Most of the people I talked to seemed to agree that the meal was worth the price, though.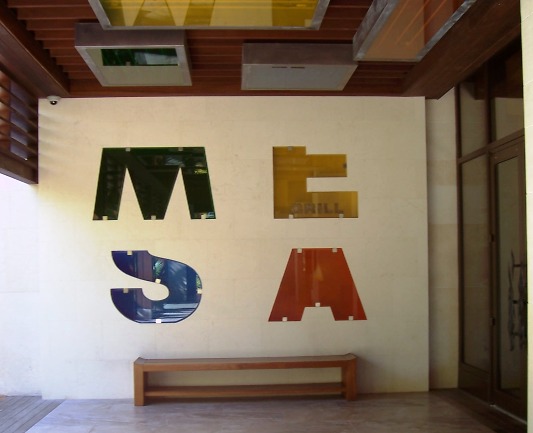 This breezy open-air corridor leads from The Cove's lobby to the Mesa Grill.



---
Appetizers
Blue Crab & Corn Chowder
$12
Crispy Conch with Spicy Yellow Pepper-Mango Relish
$21
Smoked Chicken and Black Bean Quesadilla with Avocado & Toasted Garlic Crème Fraiche
$18
Sophie's Chopped Salad with her Own Special Dressing & Crispy Tortillas
$17
Goat Cheese "Queso Fundido" with Rajas & Blue Corn Tortilla Chips
$18
Shrimp & Roasted Garlic Corn Tamale with Fresh Corn & Cilantro Sauce
$22
Blue Corn Pancake with Barbecued Duck, Scotch Bonnet Chile & Star Anise Sauce
$18
Spicy Tuna Tartare with Blistered Serrano Hot Sauce & Avocado Relish
$23
Baby Romaine Salad: Chorizo, Cotija Cheese, Pulled Croutons & Roasted Garlic Dressing
$15
Bahamian Spiced Chicken Skewers with Yogurt Cilantro Sauce & Mango Vinaigrette15.
Shrimp & Grouper Ceviche with Serrano Chiles, Tomatoes, Mango & Blue Corn and Flour Tortilla Chips
$22
Steaks
Spice Rubbed New York Strip Steak with House-Made Mesa Steak Sauce
$48
Red & Black Pepper Crusted Filet Mignon with Wild Mushroom-Ancho Chile Sauce
$52
Chipotle Glazed Rib Eye with Red & Green Chile Sauce
$51
Entrees
Ancho Chile-Honey Glazed Salmon with a Spicy Black Bean Sauce & Roasted Jalapeno Crema
$39
New Mexican Spice Rubbed Pork Tenderloin with Bourbon-Ancho Chile Sauce & Sweet Potato Tamale with Crushed Pecan Butter
$40
Cornmeal Crusted Chile Relleno filled with Roasted Eggplant & Manchego Cheese with Sweet Red Pepper Sauce & Balsamic Vinegar
$32
Ancho Rubbed Chicken with Roasted Tomatillo Sauce & Queso Fresco
$39
Mango & Spice Crusted Tuna Steak with Green Peppercorn-Green Chile Sauce, Toasted Pine Nut Couscous
$46
Pan Roasted Red Snapper with Red Chile-Tomato Sauce, Crushed Avocado & Barbecued red Onion
$42
Florida Grouper with Red Chile "Wet Rub" Sour Orange Sauce & Fresh Oregano Spoonbread
$44
Sides (all sides $9)
Smoked Tomatoes with Ancho Breadcrumbs & Creamy Cilantro Vinaigrette
Sweet Potato Gratin
Southwestern Fries
Sautéed Spinach with Cotija Cheese
Double-Baked Potato with Horseradish, Green Onions & Crème Fraiche
Black Eyed Peas & Rice
Sweet Potato Tamale with Crushed Pecan Butter
Cilantro Pesto Mashed Potatoes
Return to Paradise Island Restaurants
Return from Mesa Grill to Practical Paradise Island homepage