Atlantis Aquaventure
There's an Atlantis Aquaventure waterslide or inner tube ride for everyone. Whether you want to set your adrenaline rushing with the Leap of Faith or you just want to dangle in the Lazy River Ride, you'll find just what you're looking for.
The height requirement for the adult water rides is 48 inches (about 122 cm). For those shorter than this, try the wild fun of Atlantis Splashers . It's worth checking out, and it's kids-only fun - adults are not allowed on the Splashers' slides!
The Power Tower water slides


---
The Power Tower features 4 water slides:
The Abyss, a ride with a vertical drop, like the Leap of Faith at the Atlantis Mayan Temple waterslides , but in the dark. The slide ends in an atmospheric subterranean grotto
the Drop, an inner tube ride where you slither down the tubes and slides inside the Tower
the Falls, another inner tube ride where you experience a sheer drop all the way to ground level before being propelled upwards through tubes
the Surge, an inner tube ride with a double drop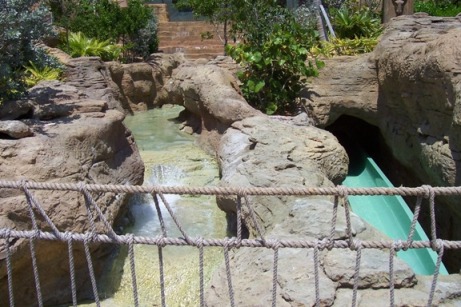 You can watch your friends going down the waterslides from various vantage points
---
You can also float along peacefully on The Current until it comes to the rapids...
Power Tower Tip
From the Current, you can get on line for the Power Tower waterslides without leaving your inner tube.
However, remember one thing: at peak times, it's far less crowded to just take your tube and walk up the stairs than to wait for the conveyor up the Power Tower.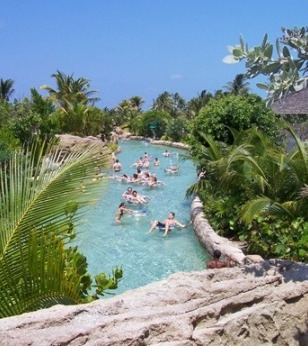 Floating on The Current. (Let's hope all those pale folks were wearing strong sunscreen.)

Return to Water Slides

Return from Atlantis Aquaventure to Practical Paradise Island homepage