Harborside Resort Pool
Well-Kept Secret Oasis of Peace and Quiet
Although shuttles to other areas of Atlantis run in a continuous stream, the Harborside resort pool never gets crowded and there are always dozens of lounge chairs available to recline in the sun (or out of it).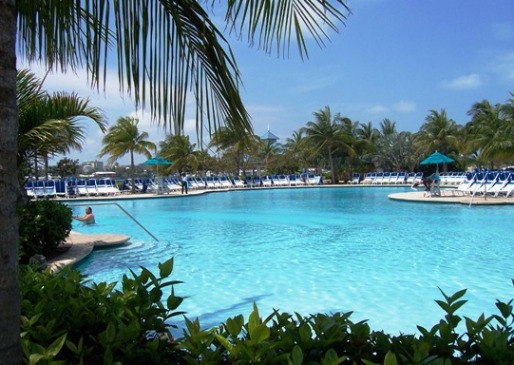 There's shuffleboard and ping pong plus a big hot tub. The Point Restaurant is a few feet away plus a snackbar, and there is a separate baby pool in addition to the shallow kids' area of the larger pool.
The kids area of the pool provides a safe place for the kids to frolic.
The people I talk to always wonder why this pool is always uncrowded and peaceful. I think the answer is pretty obvious: this pool is not near any of the water rides.
In fact, getting to the water rides from Harborside is a long walk – albeit a pleasant one through the Marina Village – or a short ride on one of the ubiquitous shuttles. Not everyone wants to spend an afternoon just relaxing in the sun with a good book.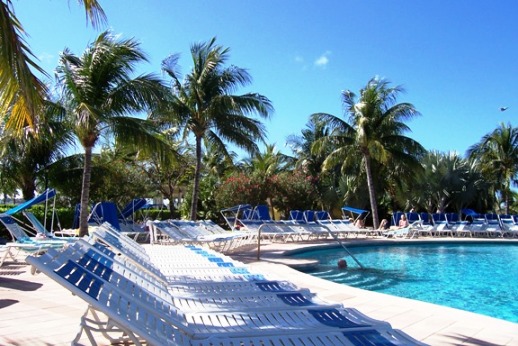 The pool at Harborside is never crowded. Take your pick of lounge chairs.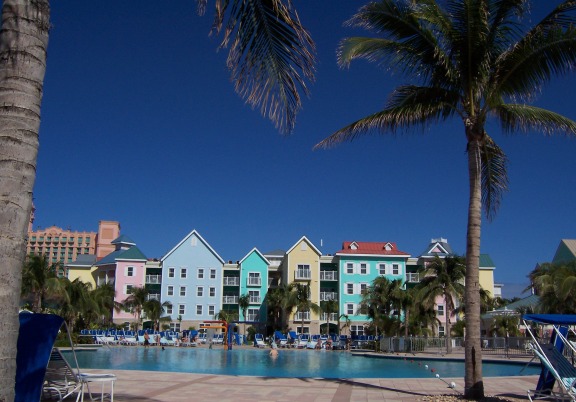 Empty pool, free lounge chairs... To the left beyond the charming, colorful villas of Harborside Resort, the Royal Towers loom tall.
More about Harborside:
Harborside Overview
photos of the interiors
more photos of Harborside interiors – bath, bedroom, and laundry
Tips & Tricks for staying at Harborside

Return from The Harborside Resort pool to Practical Paradse Island homepage