Harborside Atlantis
Home-Away-From-Home at Atlantis
Whenever I go to Paradise Island, I try to stay at Harborside Atlantis, the part of the Atlantis Resort, where time-share apartments can be rented for a weekend or a week. Staying in a apartment with a kitchen, dining area, and washer-dryer beats a hotel room every time.
Coming "home" after a long day of sightseeing in Nassau or a fun-filled day at the beach, the welcoming sight of the colorful townhouses standing on the south side of Paradise Island makes me feel comfortable and relaxed.
Strolling to my apartment, entering and taking off my sandals, opening the sliding door to the sights and sounds of Nassau harbor - all these things tell me that I am home.
Harborside is a nice place to spend a vacation and have a home away from home feel. It is quiet and that's what you want to relax and get a good night's sleep. The relaxing pool is never crowded, and there are always plenty of lounges both in the sun and out of it.
Veterans and time-share owners offer plenty of specific tips for staying at Harborside Atlantis on how to make the most of your Paradise Island vacation by staying in one of these well-appointed apartments.
It's strangely comforting to come back to the unit after a busy day on the water slides and in the grounds. When we sit out on the balcony in the evening, we can smell the dinners people are cooking and can see families eating or watching TV in their apartments.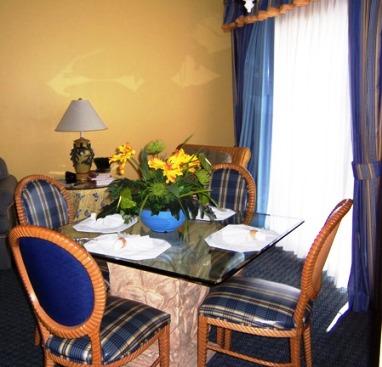 The Kitchen
The kitchen comes well-equipped to prepare most types of food. The microwave/convection oven can't fit a large dish, but I often prepare curries and casseroles.
The refrigerator is full sized and features an automatic ice maker. It saves time, but it's startlingly loud when the tray dumps the ice cubes if you leave it on at night.
The small dishwasher works well and comes with a supply of detergent. You're not supposed to use your own, so the resort supplies you with some. There is also dishwashing liquid, but that can't be used in the dishwasher.
Tips & Tricks
The lists on the Harborside Resort Bahamas Tips & Tricks page will give you more useful information on what to bring in order to make the most use of the amenities in the units.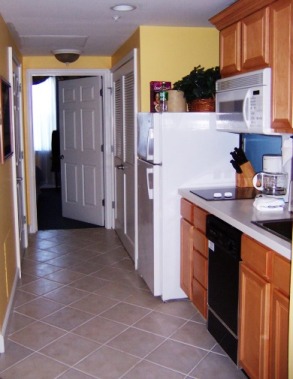 Harborside Overview
more photos of Harborside interiors – bath, bedroom, and laundry
the relaxing pool at Harborside
Tips & Tricks for staying at Harborside
Return from Harborside Atlantis to Practical Paradise Island homepage